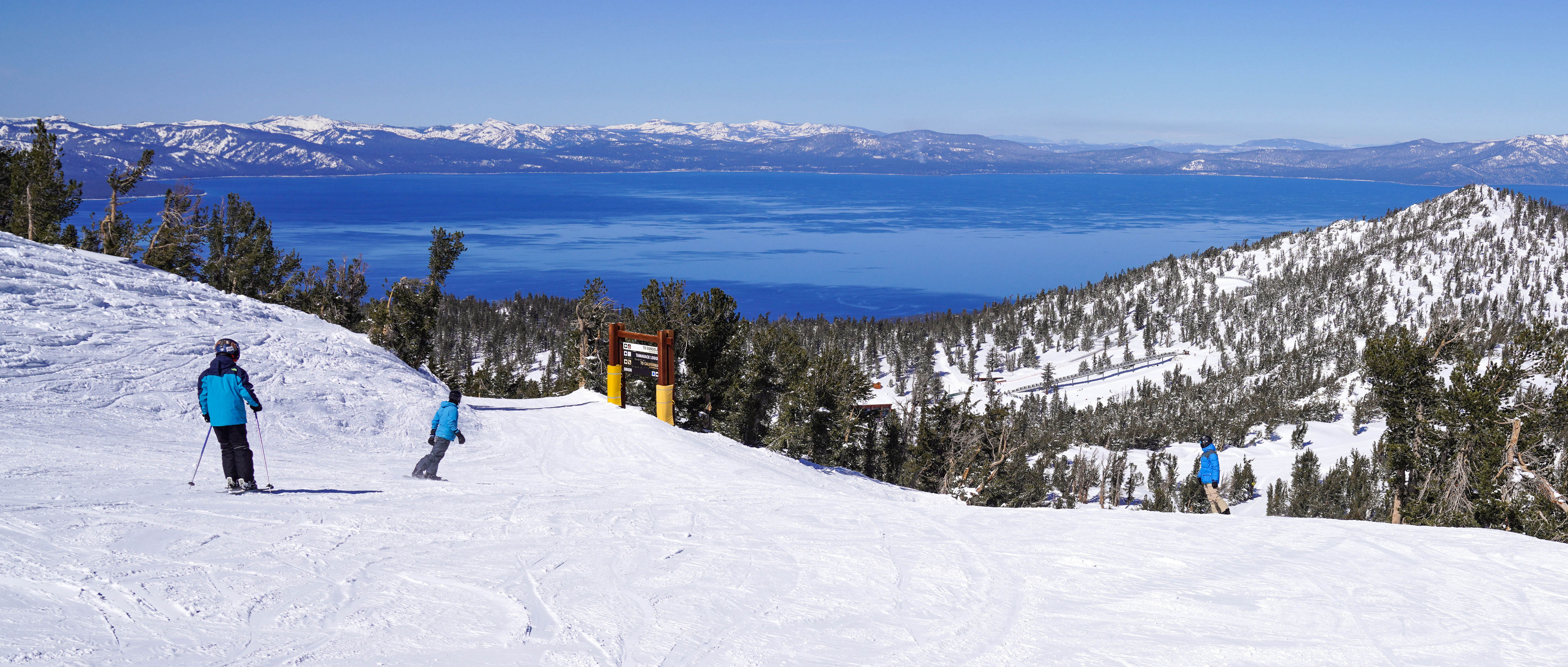 Frequent, committed skiers, often love the idea of owning their own gear that's comfortable, suits their style, and can be customized to fit their own needs. But, when it comes to the youngest members of the family, buying expensive ski equipment doesn't make much sense. Kids grow (fast!), and a beginning-of-the-season purchase may not even fit your kids at the end of the season, let alone next year. Fortunately, renting ski equipment for kids has never been easier.
Epic Mountain Rentals makes renting equipment quick and efficient. They offer Junior packages for both ski and snowboards that are perfect for kids 12 and under skiing and riding at any level. The expert fitters at Epic Mountain Rental shops will ensure your kids get the right fit and the right style for their skill set. Even if your kids grow inches overnight, which they tend to do, or if something is uncomfortable for them, you can easily swap gear out during your vacation to make sure your experience is the best it can be for everyone.
Here are four other reasons why renting gear for kids should be your go-to option.
1. It Can Save You (a lot of) Money
Ski gear and clothing aren't cheap, and you wouldn't necessarily want it to be because it has to withstand cold temperatures and stressful activities. If you're a keen skier yourself and go every season, it makes sense to invest in the best gear you can afford. This same logic doesn't apply to kids who will grow out of even the best gear before you know it. Yes, you could buy cheaper second-hand gear that you find online, but the quality of this is never guaranteed (plus you have to pile it in the car or take it on the airplane). Renting ski gear at your destination means you can skip the hassle and expense of shopping for ski gear season after season and dropping the big bucks to do so.
2. You Get Expert Help Finding the Right Fit
Another benefit of renting gear for your kids is that you'll get help with the right fit. An uncomfortable or ill-fitting piece of equipment can negatively affect your child's time on the slopes. It could also affect safety. You may not know every last detail to look for when fitting equipment, but the experts in the gear rental facilities have plenty of experience getting the right fit for their customers. Have the pros help when it comes to your child's safety and comfort on the slopes.
3. Packing for Your Trip Becomes More Straightforward
Packing for any family vacation can be a major mission: you have to take enough 'just in case' items, but not so many that you can't shut your car door. Add a whole family's skis and ski clothing to the mix, and you really might not be able to shut that car door.
Renting ski gear eliminates this problem, not to mention saves you money if you are flying somewhere. If you rent, you don't need to worry about hauling all that expensive equipment onto a plane or about how it's being handled after it leaves your sight. It also saves you money in checked and oversized bag fees.
Another convenient feature of ski rentals through Epic Mountain Rentals is that you can often get them delivered to where you are staying or even slopeside if that's more convenient*. Book online before you leave home (as well as being convenient, this will also save you money!). Plus, if you make a mistake and get the wrong size or are otherwise unsatisfied with an item, exchange it for free slopeside.
*subject to change depending on resort.
4. The Pressure on Kids is Minimized
If you're an avid skier, you probably want your child to follow in your footsteps and love the sport just as much as you do. Chances are, they will, as many kids love any kind of outdoor activity that lets them work off their abundant energy.
All kids are different, and some just may not take to skiing as much as others. It's great to introduce your kids to the joy of skiing, but they're likely to have more fun if they don't feel pressure to perform, and if they have the freedom to make their own choices about their leisure activities. If you buy them expensive gear, they may feel the pressure to commit to an activity that they don't love. If you rent their gear, especially the first time they hit the slopes, you're sending an unspoken message that they are free to opt-in or out. The goal, after all, is for everyone to have a great time.
It makes sense to rent your child's ski gear rather than buy it for so many reasons—financially, logistically, and from a safety and comfort perspective. Make sure to check out the Epic Mountain Rentals options at your destination while planning your family's next ski vacation, and before making any significant purchases.