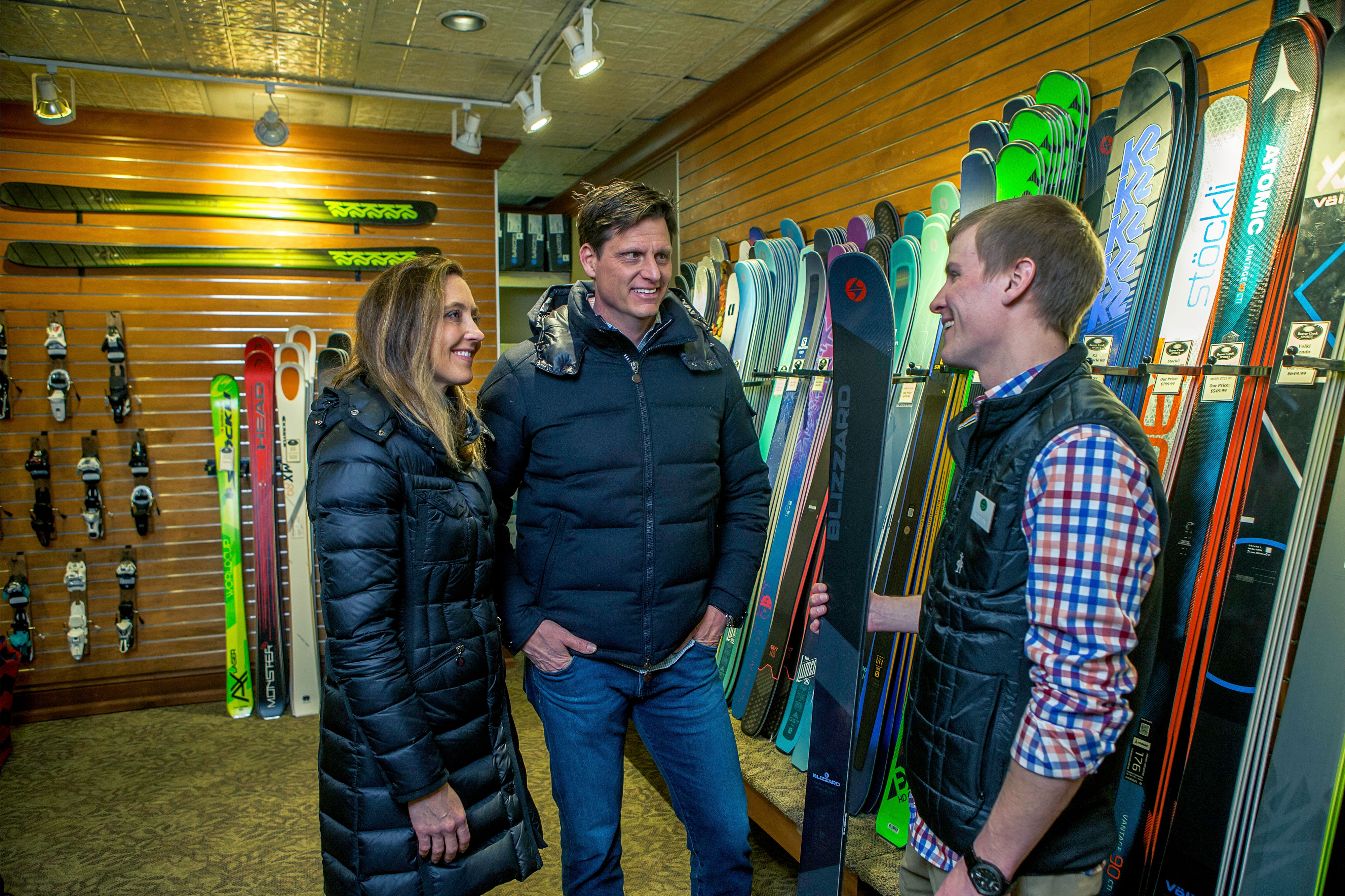 For a successful day on the mountain, you need high-quality equipment that fits well and matches your ability level. Even if you have some experience, it's daunting to sort through the various sizes, shapes and brands to choose the right equipment.

That's why renting gear is so handy. Epic Mountain Rentals will set you up with premium gear that's perfect for you. With a solid collection of set-ups from top brands, it's not hard to find something that works for you. Expert fitters can answer all your questions about anything from equipment to the best local spot to grab a beer at the end of the day. It's an ideal situation, especially if you only get to ski a couple of times a year or you're just beginning your love affair with skiing.

Take John, a long-time outdoorsman, first-time skier. He moved from the East Coast to Denver, and unsurprisingly found himself inspired by the mountains and wanted to get out there as often as possible. He decided to go the skiing route and booked his first-ever ski trip to Keystone Resort.

Since he didn't have his own gear, renting was the obvious choice. Keystone Sports helped him figure out what he needed to get started and got him set up. His first day would not be his last, and after a great first experience, John repeatedly rented gear and explored more and more of the Rockies on skis. Here's what he had to say about his experience renting gear time after time:
An Easy First-Time Experience
"I walked in not really knowing what to do. They helped guide me into a beginner boot and a beginner ski," John said.

While he was getting set up on skis, John was able to talk to the expert fitters and ask any questions he had: what runs should he try, where's a good spot to have lunch, any advice for a beginner. As a first-time skier, he was also given a brief explanation about which type of skis were best for his size and ability. The whole thing was quick, easy, and educational.

"I got set up, and then went to the ski school, which was right around the corner."

Pro tip: If you want to get out in time for first chair, grab your gear after 3 PM the day before your rental begins. It's free and helps you avoid getting a late start.
Renting Across The Rockies
Over the next two years, John rented skis at several resorts in Colorado, including Breckenridge, Vail, and Beaver Creek. While he noted that each location was different, the expert fitters consistently provided a high level of customer service and he enjoyed interacting with them.

"I just kind of leaned on them to give me tips as I got better," he said. "They were able to guide me into a different size and different tightness in a boot. Then, I got better skis or demos when I was ready to try that side of things. I tried fatter skis for powder days."

While John enjoyed his face-to-face meetings with shop employees, he also gives the online booking experience high marks. "It's a pretty easy process," he said. When you're online, you can choose the resort you'll be visiting, pick a convenient location for pickup or delivery, your desired ski or snowboard package (including boots and a helmet, if you need them), and then provide your payment information. Your reservation is then complete and it's ready and waiting for you when you arrive. If you have an Epic Pass, Ski School reservation, or other services at any Vail-owned resort, you can even use the same account login on EpicMountainRentals.com.

Pro tip: Use the expert fitters as advisers for more than just ski gear. They know the area well and have a ton of local knowledge. Pick their brains for secret powder stashes, favorite restaurants or even fun things to do that don't involve skiing or riding.
Renting Offers Plenty of Perks
There was a time that renting ski and snowboard equipment was a real drag. You had to arrive at the ski shop early to get a spot in line, and then wait, and wait. When it was finally your turn, you would be hurried into your equipment and shuffled out, often carrying beat-up gear that didn't fit or function that well. It's a totally different game now when you rent through Epic Mountain Rentals.
If you initially set up a reservation online, the whole process moves quickly. "When you get to the rental shop, you get to go straight to the reservations line," John said. "It's a nice, expedited service, as opposed to having to go in through the sign-in process if you just walked in."

There are other perks as well. For example, at many resorts, you can take advantage of day and overnight storage services. If overnight storage is available, you can return your gear to the shop where they'll keep it for you until you need it the next day instead of schlepping it all the way back to your room.

Another great perk is the ski valet option, which is offered at select resorts. "You can just pop your skis off right at the base of the mountain," said John. "I remember one time I gave them my skis, and they had my shoes warming. Yeah, that ski valet is pretty awesome."

Epic Mountain Rentals has a ton of convenient locations, many of which are located right at the base of the ski resorts. Because the shops are so close to the slopes, it's easy to address gear issues that arise when you're on the mountain. Plus, you can easily switch gear in the middle of the day.

Pro tip: Check to see if your resort delivers rental gear to your door. If it does, book it! An expert fitter will come to wherever you're staying, bring your gear, and make sure you have the right fit.
Renting Gear For All Conditions
A large number of people who rent gear are beginners or travelers who don't want to transport their own equipment. However, renting is also a great option for skiers and boarders who are progressing in their skills and wish to explore all types of terrain in varying conditions.

As John became a better skier, he started to rent specific skis for individual mountains and particular snow conditions. One day at Vail, he started the day on all-mountain skis, but as a storm rolled in, he returned to Vail Sports to switch to powder skis.

"They were super accommodating," he said. After the techs adjusted the bindings on the new skis, he was back out the door and into the fresh powder, without dropping any more change in the process.

Rentals allow you to adjust your gear and adapt your equipment to your ever-increasing skill level. You can choose from a wide selection of styles, brands, and sizes. Once you're at the resort, your set-up will be waiting for you.

"They know your history; they know what to do," said John. "They know what you last rented, and you just pick up where you left off."

Pro tip: Remember that different types of skis perform better in different conditions. When you rent you can make sure you have appropriate gear every time you hit the mountain no matter what the conditions throw at you.

As John realized when he moved to Colorado, learning a new sport and trying to get better can be a real challenge. He has since progressed and enjoyed the process because he hasn't had to worry about his gear. With the assistance of rentals, he's been able to find the right products, get them to the resort easily, and tap into the expert fitters' knowledge for when adjustments are needed as well as for tips on where to ski, and what skis he should be using. For John, there's really only one challenge left—seeing how far he can push himself as he continues to explore the mountains he has come to love.