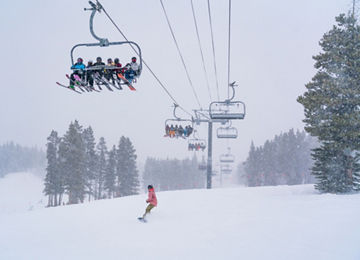 A top-notch outfit like Epic Mountain Rentals lets you figure our what you need to ensure you have the right skis for your ability and the conditions. They also have demos so you can try out different styles from top brands before you buy your own. Maybe one day, after years of exploring, you'll find that one perfect pair that you share a special bind, er, bond with.
Until that time comes, however, you'll need to know how to strike up the right conversations to learn about your potential partner skis. Here are the questions you should ask when renting equipment.
1. What kind of skier am I?
First things first—it helps to know what kind of slope persona you have. Are you a speed demon? A captain of control? A super timid "I'm not sure I wanna be here, but I'll give it my best shot for the benefit of the group (and likely be thankful that I did)" trooper?
How you define your ski style will go a long way toward determining what rental skis you choose. There are three ways to break down what kind of skier you are: 1) ability, 2) conditions, and 3) preference. For ability, it's pretty standard: beginner, intermediate, or advanced. Conditions can vary daily: powder, hard pack, groomer, ice. Preference boils down to a few things. Are you looking for speed, control, or confidence?
Epic Mountain Rentals packages (more on these in the next question) are set up with ability level in mind so you can feel confident that the equipment you're on is right for you. Their expert fitters will be able to answer all your questions and ensure you have a perfect fit.
2. What's the difference between Sport, Performance, and Demo packages?
Epic Mountain Rentals offers Sport, Performance and Demo packages to suit different abilities, terrain, and snow conditions. Not all skis are made the same, and it's crucial that you get equipment that suits your ability level and the conditions you'll encounter. Epic Mountain Rentals has three packages—Sport, Performance, and Demo—to choose from. For first-timers or few-timers, Sport is the best. The skis in this package are shorter and have a more forgiving flex.
These two things make it easier to turn and control especially at slower speeds. Softer skis also absorb bumps on the mountain a bit better than stiffer ones making it easier to manage any bumps you might run over along the trail. For intermediates who like to pick up speed and prefer groomed blues and introductory black diamonds, Performance skis are the ticket. They're stiffer than a beginner board and perform better at high speeds. They require a little more physical strength to turn, but they hold their edges more firmly and their sharper edges help you stay in control as you ramp up the speed. For more experienced skiers, the Demo Package is where it's at. This is state-of-the-art gear from top brands that you can rent and just try out for however many days you need.
You can also swap your gear part way through your rental if conditions change or you just want to try something different. Demos are super fun for just playing around or for gathering information on a future purchase. Oh, one more kind of skier we should mention: the mini shredders in the family. If you're going on a ski trip with children 12 years old and under, opt for Junior skis.
3. How should my boots fit?
A lot of skiers know that ill-fitting boots make for a bad day on the slopes. Blisters, numbness and cold, cramped feet are not things you want to deal with when you're trying to get your shred on. When you rent your skis from Epic Mountain Rentals, their expert fitters will make sure that the boots you get fit properly and are comfortable. If for some reason they don't feel right after a couple of runs, you can swap them out for others that are more comfortable.
In general, your boots should fit snugly. They should be super snug if you're going for a performance fit and sort-of-snug if you're optimizing for more comfort. Too much room gives way to sliding around, which can cause blisters and loss of control. If boots are too tight, they can cause unwelcome hot spots and squeeze pressure points. A snug middle-ground is best. Pro tip: Socks can play a big role in how your boot fits. Try sticking to the same style and thickness each day so your boot fit doesn't change too much. You can also grab a new extra pair at any Epic Mountain Rentals location.
4. Where can I rent skis?
The answer to this one is easy: Epic Mountain Rentals. They offer cutting-edge rental services and high-quality gear from top brands in more than 100 shops at multiple resorts across the country. You can easily rent and reserve online and either have your skis delivered to your room or pick up in person depending on the resort. You can also quickly find shops that have overnight storage options or on-snow valet so you can store your gear overnight close to the mountain and swap hauling it back to your room for more time at après. It's a smooth and efficient way for you and your family to rent skis for your winter trips.
There are so many different reasons to rent skis. First and foremost, you get a guaranteed fit in skis just right for your ability level and the conditions. Add on free delivery, on-snow valet, storage options, and (yes!) heated boots, it's pretty much a no brainer. Read more about the benefits of renting your gear.