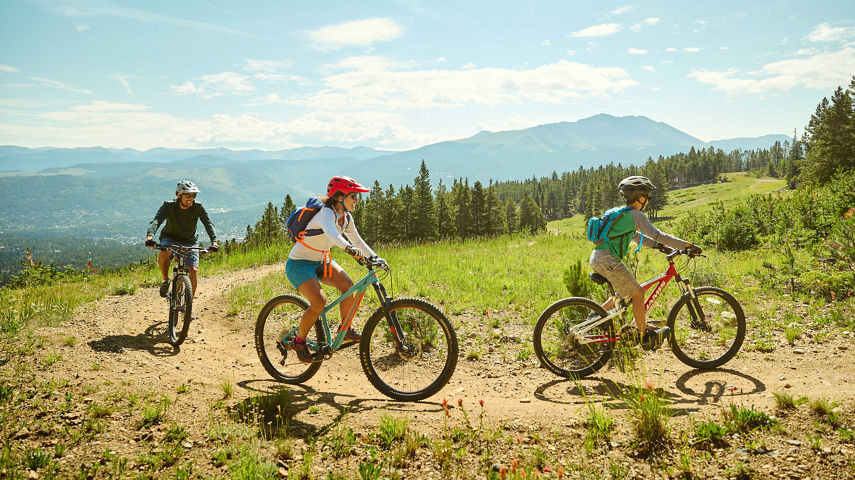 Whether you're an experienced biker or a beginner, there are essentials that every rider needs to have before hitting the trail. From safety gear to accessories, having the right items can elevate any bike ride on your rental.
Safety First

First and foremost, it is essential that you have all of the necessary safety gear before embarking on a bike ride. A helmet is a must—your protection should be your number one priority. Each bike rental package is equipped with a helmet, fitted by our in-store bike experts. Stop in to any
Epic Mountain Rentals location
to explore our helmet options.
Bike Essentials & Accessories

There are plenty of accessories that can make your ride more comfortable and enjoyable. Pack a backpack ahead of time with some key essentials:
Water
– Hydration is key and water stations can sometimes be limited out on the trails. Ensure you have a water bottle or hydration pack.
Sunscreen
– At high altitudes, the sun is closer than you think. Make sure to lather up before starting your day and carry extra to use throughout your ride.
Proper Shoes
– No matter what bike type you're riding, closed-toe shoes are essential for safety and comfort.
Apparel
– Make sure you're wearing the right clothing for your bike ride. From lightweight jerseys to thermal jackets, lined bike shorts, and even water-resistant options, the right apparel will keep you comfortable throughout the entirety of your ride.
Sunglasses
– A great addition to protect your eyes during those sunny bike days!
Trail Map
– Ask an expert for a map and trail recommendations to ensure that your ride goes smoothly.
Bike Lock
– Ideal for a midday lunch stop or a break in your ride. Check-in with your rental shop to explore lock options to keep your bike safe when parking it for a break. *Bike locks are subject to location and availability.
Need more recommendations? Ask our experts in-store!
No matter what type of riding you do, having the right essentials is key to staying safe and enjoying your time on two wheels. From helmets and apparel to accessories like locks and water bottles, having everything ahead of time will ensure that each ride goes smoothly! What are you waiting for? It's time to hit the road!
Book your bike rental now
at any of our Epic Mountain Rentals locations throughout the United States and Canada.