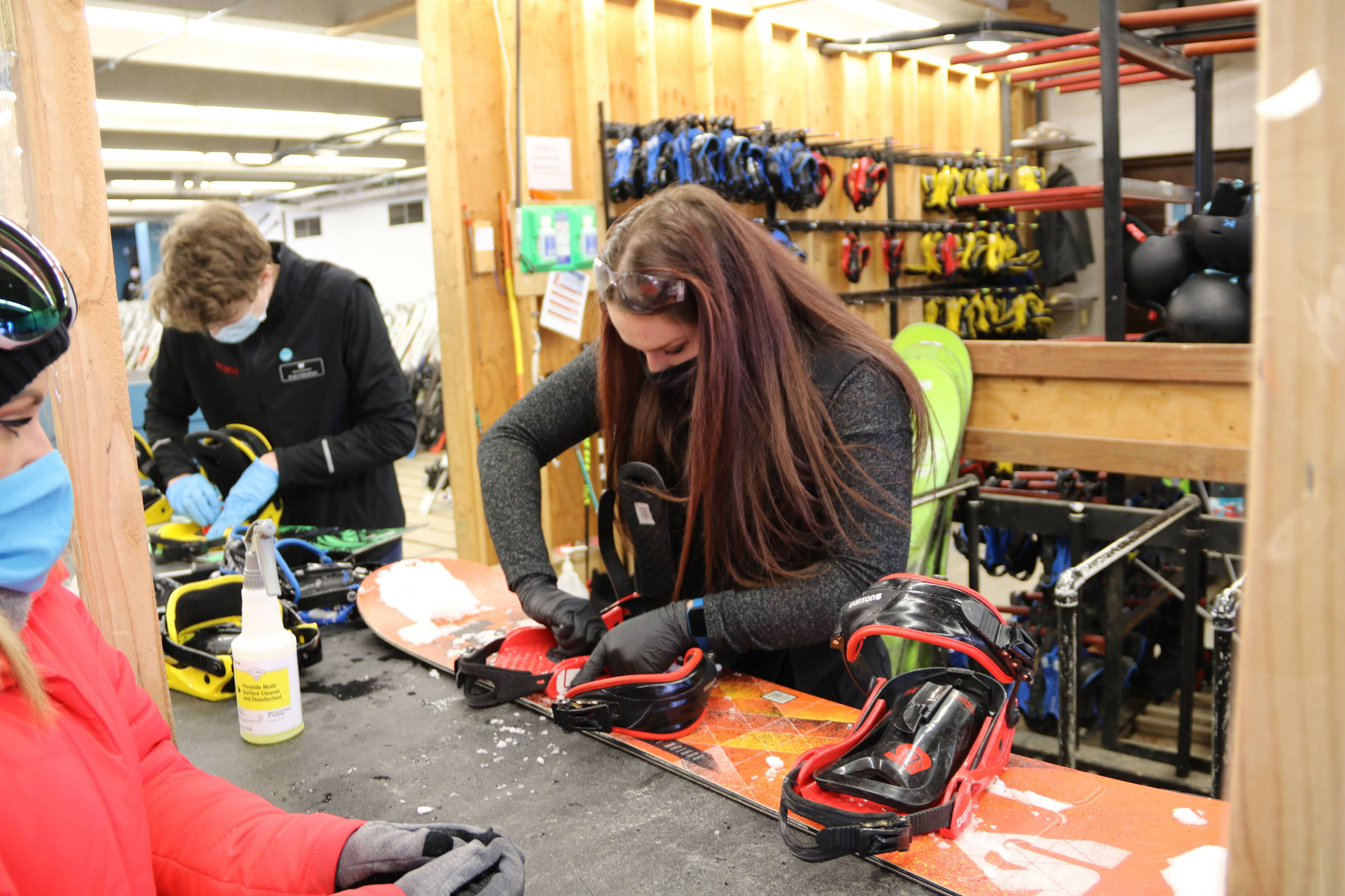 Just like needing the right tools for a job, you need the right gear to have a good time on the mountain. Whether you're skiing or snowboarding, you need equipment that is comfortable, fits you well, and suits your ability level as well as the conditions. To ensure you're getting appropriate, high quality gear that's in great shape, the easiest solve is to turn to hand-selected rental packages from Epic Mountain Rentals.
Sport, Performance, and Demo packages include premium equipment from top brands such as Salomon, Rossignol, Head, Burton, Nordica, Volkl, Blizzard, and more – with the latest in comfort and technology. Within each package, there are options for every level, from first-timer to seasoned expert and everyone in between. And for the youngsters, Junior packages are perfect for children 12 and under. Check out what equipment and
packages
options right for you!
Every snowboard package includes a board, boots, and bindings, and ski packages include skis, boots, and poles. Of course if you have your own boots, we can fit your bindings to them, but if you need some, Epic Mountain Rentals has nothing but the latest and greatest in comfort and quality from companies like
Burton
, Head, Norcia, and K2. We also recommend renting a helmet to protect your noggin!
We understand the intimidation of choosing from so many options –but not to worry – the below guide will get you started, and then the experts at
Epic Mountain Rentals
finish things off. They're always ready to make recommendations, answer questions, and offer up suggestions based on your specific needs, since this simply isn't a one-size-fits-all kind of process.
Demo Package: For Every Level, Even Experts
Demo skis are the latest premium skis for any ability level - a great option if you're skiing in varying conditions.
If you're looking to try out the latest, greatest equipment and the best technology from top brands, the Demo Package is for you. You can choose skis and boards to learn on easier terrain, hop on more aggressive gear if you're already a king or queen of the mountain or find something in between. With top models from K2, Burton, Blizzard, Volkl, and Nordica, the sky is the limit when it comes to options – and every Epic Mountain Rental expert can help you find exactly what you're looking for to enjoy the resort to the fullest.
For seasoned skiers and riders, the Demo Package is also a great way to test out various models before buying, or even to simply try something new based on mountain conditions. It also allows you to get a feel for what's out there and just have some fun with different styles of riding on different parts of the mountain.
Best case scenario, maybe you brought your all-mountain skis or board and then the resort got pummeled by 15 inches of powder (a great problem to have!) so you are looking to upgrade temporarily to enjoy that nice fluffy stuff to the fullest. This is another great reason to check out the Demo Package, with some fatter skis or a bigger board that allows you to float through the snow rather than fight to stay on top of it.
Performance Package
Performance skis offer more stability for intermediate skiers. When you begin to cleanly carve from side to side rather than slide into each turn, you need something a little more responsive underfoot. By upgrading your gear, you can continue to improve your technique and progress to the next level. Skis and boards in the Performance Package tend to be stiffer and a little more powerful than those from the Sport Package, allowing them to react well and remain stable as you start going faster and leaning into turns.
To get the most out of the mountain and explore every zone possible, the Performance Package is perfect. Everything in this package will support you as you crank up your speed a bit and take on different types of terrain.
Sport Package

When you're first figuring out how to make your way down the mountain, it's important to get the hang of controlling your speed and stopping before all else. Sport Packages are built for beginners so you can do just that – while learning and turning your way downhill at slower speeds.

Sport skis and boards are relatively shorter than other packages, making them easier to maneuver. In addition, they're stable yet flexible, and very forgiving, which allows them to respond better at slower speeds. When skiing or riding on more forgiving equipment, it's easier to transition from one edge to another and get a feel for the mountain as you learn the ropes on groomed terrain.

Getting on top-notch gear that matches your ability, terrain of choice and mountain conditions has never been easier. Whether you're a beginner or expert – the key to a great day is having the correct equipment. Not only will proper gear help you maximize your comfort, it will help you build confidence and focus on what brings visitors back year after year – endless smiles on the slopes.