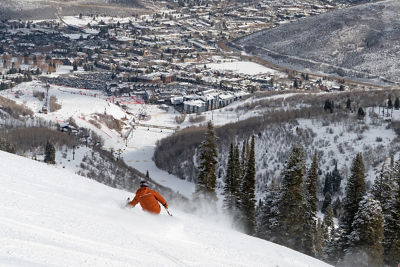 As you stand atop a steep ski run, your stomach twisted in knots, it's easy to feel intimidated about skiing. Whether you're new to the sport, returning from injury, or just nervous about taking it to the next level, you can calm your fears and master the mountain with these 10 fear-fighting tips:
1. Take a Lesson
The single best way to reduce ski anxiety is signing up for a professional lesson. Sure, you'll spend a few bucks upfront, but lessons teach you proper form from the get-go and help you overcome ski anxieties. Sure, you could have a friend/partner/spouse teach you, but it often creates tension and can even cause disagreements. Instead, start with a half-day lesson then meet your friend for afternoon turns.
2. Rent Your Gear
Renting gear should help relieve some of those butterflies in your stomach as well. When you with Epic Mountain Rentals, their expert fitters will ensure that you have the right gear for your ability level and that this state-of-the-art equipment is in top condition when you head out on the mountain. You don't have to worry about your gear at all. The expert fitters are also a great resource for asking questions to help you figure out what runs are good for your ability and where to grab a celebratory drink after facing down your fears.
3. Go Slow
Getting down the mountain isn't a race. In fact, injuries from high-speed crashes at resorts have prompted many to put up Slow Zone signs in busy areas. You'll do your best and reduce your risk of injury by skiing in control, at your own pace. If your friends ski faster than you, let them go ahead and plan to meet at the chairlift. And if your ski crew wants to do a black diamond when you still only feel confident on blue squares, use that time to take some solo turns instead of winding up over your head on expert terrain.
4. Beat the Crowds
5. Practice Falling
This may sound counterintuitive, but if you purposely take a few falls on the bunny slope, it can help you know what to expect, and learn how to fall wearing skis without getting hurt. Plus, once you've tumbled a few times, you'll realize it isn't nearly as scary as you expected.
6. Go Back to the Basics
Psych yourself out on a steep blue run? If you're shaking like a leaf after a fall and feeling nervous, head back to the green circle runs to rebuild your confidence. Once you're feeling self-assured on smaller slopes, venture back to the tougher terrain and try again. If that doesn't help you relax, take a full-stop hot cocoa break before skiing another run.
7. Breathe and Let Loose
When you find yourself saying, "I can't," on a ski run, take a moment to stop, breathe, and relax. The deep breathing brings a sense of calm that helps relax tense muscles, allowing you to ski your best down the mountain. If you start to feel nervous again while skiing, pull over on the hillside, take deep breaths, and refocus before continuing.
8. Act Positive, Be Positive
Thinking positively makes you feel positive. Instead of saying to yourself, "Don't fall. Don't fall. Don't fall," as you make your way down the slopes, focus on what you want to accomplish. Try saying, "Smooth round turn," or count down your turns until you reach the bottom. Instead of thinking about how afraid you are, focus on how proud you are for pushing your ski abilities.
9. Don't Overthink It
Once you've progressed from pizza wedges to French fry turns, it's time to step up your skiing. But sometimes, thinking too hard about how to ski can hamper performance. Once you've got the basics, trust your equipment and your skills and distract yourself from fear. Try singing a song, appreciating the mountain views, or counting the turns you make down the run.
10. Invest in High-Quality Goggles
Goggles are one of the most critical pieces of ski gear. There's nothing worse for your ski confidence than not being able to see the slopes in a whiteout or flat light. Sunglasses do little to help you with changing lighting conditions, and they don't do much for protecting your face in the cold like goggles do. Instead, opt for goggles with swappable lenses built for varying light conditions. Choose a pair that fights condensation and bring along a goggle wipe to clean them on the chairlift.
11. Quit While You're Ahead
Skiers aren't always superstitious types, but you're sure to elicit gasps if you say two words on the slopes, "Last run." Why? Because skiers are more likely to fall on the day's final run because they've kept going beyond the point of exhaustion. So never say "last run." Instead, tell yourself you'll take two more runs, and skip the last one. Better yet, just be sure to call it a day before fatigue sets in.